An interactive exhibition with educational paths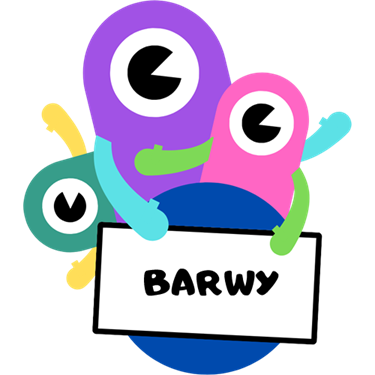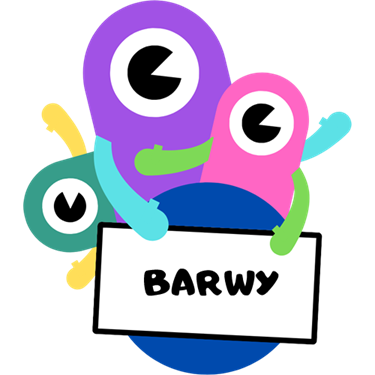 Discover the fascinating world of colors and light at the unique "Colors" exhibition at the Imagination Science Center.
See why it is worth visiting us...
Pixels under magnifying glass - Have you ever wondered how your TV works? Discover the mystery of colors on your screen and learn how the three primary colors make up the entire palette of colors you see.
Dichroic filter - See how colors change depending on the angle of the light. Experience the magic of complementary colors!
Hunter Run - Learn the secrets of smooth motion in movies and understand how our brain interprets a series of images.
Colorful shadows - Immerse yourself in the world of shadows and discover why they are not always black.
Photo Printing - Understand how your home printer can produce amazing color photos with just three colors of ink.
Chameleon Blocks - Find out why certain objects change color depending on the lighting.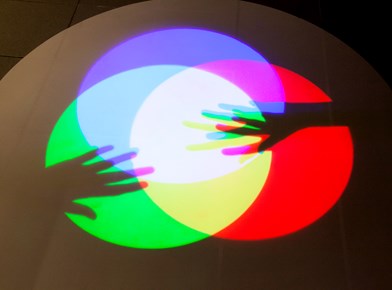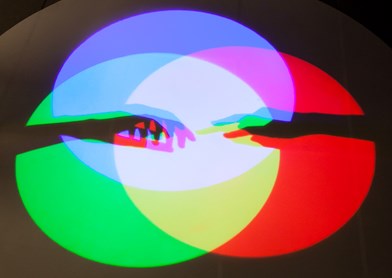 We are waiting for you!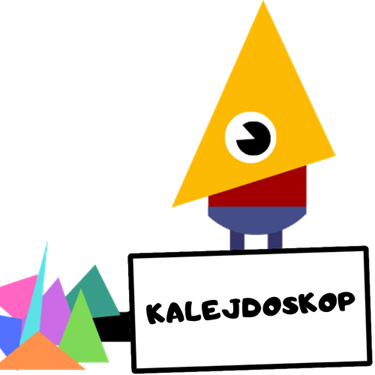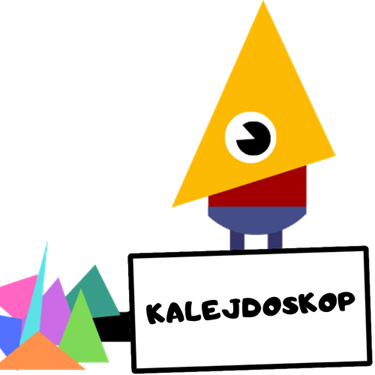 Have you ever wondered how a kaleidoscope works? Or would you like to understand why we see reversed images in a mirror? If so, our educational path is for you!
Here are some reasons why you should visit our exhibition:
Kaleidoscope: You will understand how light reflections from mirrors create amazing patterns and why the shape of the cassette affects the variety of images.
The crooked world: You will experience how a change of perspective can affect how we see ourselves in the mirror.
Electric Maze: Try to navigate the maze by looking only at its mirror image. It's a challenge for your brain!
3D Mirror: Immerse yourself in a world of 3D illusions and understand how our eyes work together to create a 3D image.
Scope: Discover the mysteries of the cosmos and understand how telescopes work.
Camera obscura: You will understand how the image is created in the camera and why it is inverted.
Magic Cube: Be surprised how lighting can change what we see in the mirror.
The learning path is not only learning, but above all fun! Each stand has been designed to provide visitors with an unforgettable experience and at the same time broaden their knowledge in the field of optics and physics.
Come and immerse yourself in the world of science in a way you've never experienced before.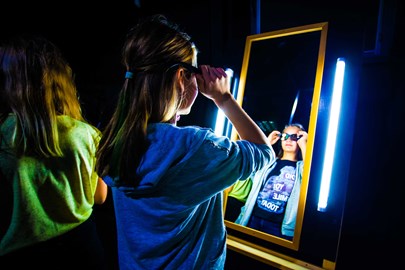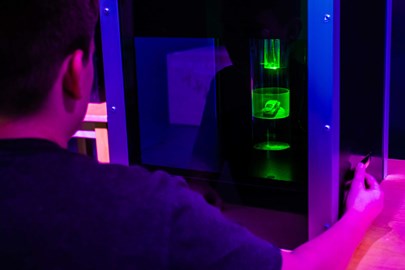 GDZIE WZROK NIE SIĘGA
WHERE THE SIGHT DOESN'T REACH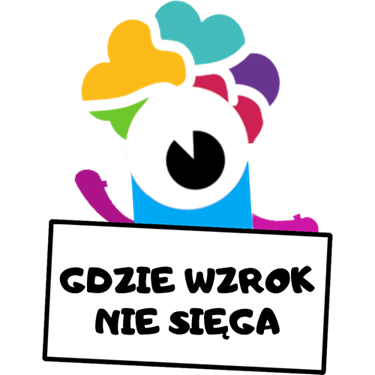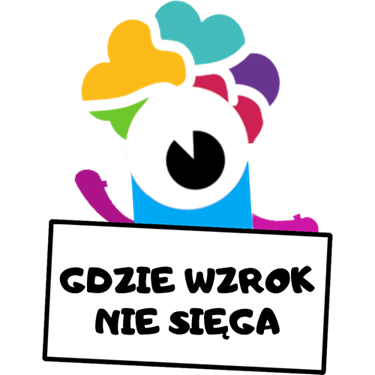 GDZIE WZROK NIE SIĘGA
WHERE THE SIGHT DOESN'T REACH
Have you ever wondered how the modern technologies that surround us every day work? How is it possible that we see 3D images in the cinema, or why our cell phone "sees" something that our eyes do not see?
If so, we have an offer for you that you can't refuse!
Why is it worth visiting our learning path?
Understanding the phenomena of light: Thanks to stations such as "Periscope" or "Circular Polarization" you will understand how light reflects from different surfaces and what it means in our everyday life.
Interactivity: Many stations, such as "Pixels" and "Pouches", allow direct interaction, making learning a real adventure.
Discovering the mysteries of technology: Learn how LCD screens, sensors in our mobile phones and even 3D cinema technology work.
Holograms: Who wouldn't want to see a rotating hologram or understand how these amazing images are created?
Safe Experiments: Try "beating the alarm" and understand how motion sensors work in security systems.
Here are attractions that will arouse your curiosity and allow you to look at the world from a completely different perspective!
Manualnia differs from educational paths in that the educator does not act as a guide here. It is the participants themselves who get acquainted with the exhibit, activate it and thus obtain answers to the questions posed.
In Manualnia, under the supervision of an experienced educator, participants will look for answers to their questions.
They will experience how difficult it is to overcome the maze by looking at its mirror image.
They will make anaglyphs from cast shadows, build a simple electronic circuit and check if there are no secret passwords hidden in our workshop.